Gesamtanzahl Einträge: 5 Showing: 1-5
Seite:

[1]

Sunshine Coast Artist carving wood masks, bowls, urns, door knockers, sculptures and more. Commissions welcomed.


Hand crafted traditional wooden bows & arrows. Made with Pacific yew and other natural materials, stock or custom orders available. Also teach 3-8 day workshops to learn how to build your own bow & arrows.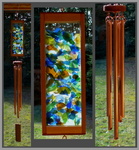 Beach Glass inspired Wind Chimes and Art