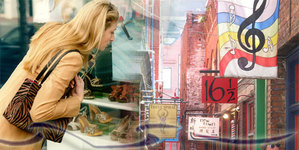 Benötigen Sie Dienstleistungen vor Ort? Unterstützen Sie lokale Geschäfte, die so genannte "100 Mile Diet", und kaufen Sie bei Bauern, Winzern und biologischen Wochenmärkten vor Ort ein. GoBC zeigt Ihnen kleine Geschäfte in der Nähe die nicht nur hervorragende Produkte anbieten sondern auch grossartige Dienstleistungen zur Verfügung stellen.

Finden Sie alles von Autozubehör bis zu biologischen Nahrungsmitteln, Kunst und Geschenken.
Shop Local by category
Arts & Crafts made in BC - Super Artistic BC - Online Shop
Are you interested in taking home a piece of British Columbia's rich culture, a unique souvenir or gift?
Unsere "Virtuelle Gallerie" bietet eine perfekte Möglichkeit um Künstler und deren Kunst zu erkunden. Wählen Sie zwischen First Nations Schnitzereien, delikater Glass Kunst, handgefertigten Seifen, Schmuck, Keramik, biologische Lekereien, inspirierenden Gemälden und Kunst die aus natürlichen Gegenständen geschaffen wurde aus.
Whether you would enjoy adding a new conversational décor piece to your home, or you would like to find the perfect gift for someone who you may feel has it all, explore GoBC's Shop, a boundless range of ideas that will delight even the most distinguished individual.
Bitte klicken Sie hier um unsere
BC Arts & Crafts Online Gallery
zu besuchen.