British Columbia Travel Guide

The unofficial BC Travel & Tourism Guide

When flying in by harbour plane over the islands or sailing between them, the Southern Gulf Islands look like something out of a tropical romance film. Dozens of green peaks in the deep blue coastal waters are very enticing. As a collective, this fare weather grouping of islands is popular among visitors and other local day trippers from surrounding islands as a destination for secluded getaways, forest and wilderness exploration, and sources of organic delights and wonderful artisans. Mayne, Pender (N&S), Salt Spring and Galinano are the most distinct and populated islands. Time spent here should encompass planning overnight stays and timely ferry rides to "Island Hop"!


While traveling among the islands plan your journey with the intention of seeing the smaller islands within a day (plan where your night stay will be) and when the peak ferry hours are (generally evening - after work hours 5pm and morning 8/9am rushes for the islanders heading to other islands for the day). Please refer to the BC Ferries link for detailed schedules and rates. Access runs between islands, Vancouver Island, and the mainland out of Tsawwassen (Greater Vancouver area).
Southern Gulf Islands Unterkünfte
Willkommen in Ihrer Meeressuite mit privatem Strand.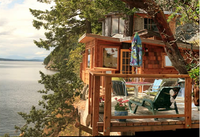 Der ideale Platz um zur Ruhe zu kommen!

Southern Gulf Islands Things to Do