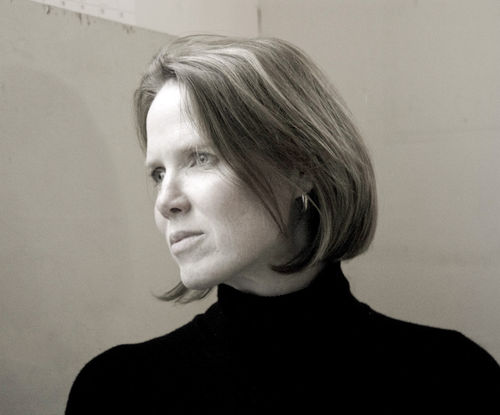 Hallo - ich bin Ellen Scobie, Künstlerin in Burnaby, B.C. Meine Kunst besteht aus der digitalen Verbindung verschiedener Darstellungen, ähnlich der traditionellen, mir vertrauten Methode der Lithographie. Indem ich die Schönheit von Stadt- und Landschaften von B.C. interpretiere, schaffe ich reale und imaginäre Orte der Vorstellung. Meine Kunst soll den Betrachter zum Denken anregen und gleichzeitig Schönheit vermitteln. Besuchen Sie mich in meinem GoBC online shop. Mein vollständiges Portfolio finden Sie unter www.verosimile.com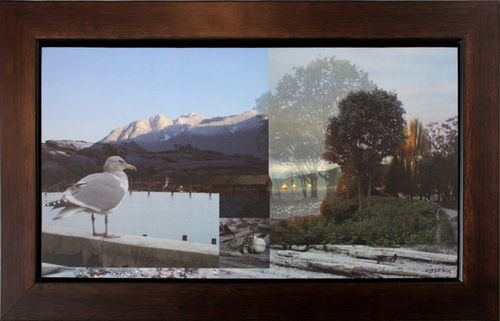 Lebenslauf
Ellen Scobie ist eine geborene "Vancouver Islanderin". Mit einem Bachelor-Abschluss of Fine Arts (Kunstgeschichte) von der Universität Manitoba begann sie die Ausbildung im Lithographie-Bereich. Es folgte eine Ausbildung im historischen "London College of Printing", UK. Nach mehreren Jahren in Spanien, kehrte Ellen an die Westküste zurück, wo sie begann, mit verschiedenen Medien und Techniken - inklusive Aquarell und Acryl, Skulpturen und Collagen - zu experimentieren. Ihre digitale Photomontage wurde durch all diese Techniken beeinflusst. Die Künstlerin hat eine Tochter und lebt mit ihrem Mann in Burnaby, B.C.
Artist Statement

Mein Ziel ist einfach: ich habe viele Länder besucht, Erinnerungen und Träume zurück ins Leben gebracht und möchte diese Erfahrungen in einer ästhetisch faszinierenden, visuellen Interpretation darbieten. Die Digitalkamera ist ein relativ neues künstlerisches Werkzeug, jedoch ist die Tradition der Fotomontage - seit Jahrzehnten von Künstlern praktiziert - die Basis meiner digitalen Druckarbeit. Die Unmittelbarkeit des digitalen Image und die unendlichen Möglichkeiten der veränderten Darstellung faszinieren mich. Reich und endlos sind zudem die Kombinationsmöglichkeiten der digitalen Daten. Ich benutze Pixel wie Tusche oder Farbe bei der Entwicklung meiner optisch geschichteten Kunst. Ich hoffe, meine Werke werden Ihre Vorstellung anregen und mit Ihrer eigenen Weltanschauung kommunizieren. - Ellen Scobie
Bisherige Ausstellungen

Christmas Show, Gallery Artists, Seymour Art Gallery, North Vancouver, Nov 18 2008-Jan 4 2009

Night of 1000 Drawings, Artists Space, New York City, Dec 13 2008

One 4 One: A License to Buy Art, Juried Group Show, Maple Ridge Art Gallery, Oct 25-Dec 6 2008

Snap to Grid, Los Angeles Center for Digital Art (LACDA), Oct 9-Nov 1 2008

Dreams for Women Postcard Art Project, Invited Participant, UBC, Vancouver, Oct 6-10 2008

Artists for Animals, Charity Art Auction, Vancouver, Oct 4 2008

Timeraiser Vancouver Art Auction, juried, Roundhouse Community Center, Sep 25 2008

International Digital Art Show, Honorable Mention, Inaugural Exhibit of the Museum of Computer Art (MOCA), Brooklyn, NY, Sep 2-18 2008

Abstract Expressions, Juried Group Show, Watson Studio Gallery, Johnson City, TX, Jul 26-Sep 20 2008

New Work, Solo Show, Seva, Vancouver, Aug-Sep 2008

Summer Salon, Gallery Artists Group Show, Isabella Egan Gallery, Vancouver, Jul-Aug 2008

Many Unique Perspectives, BC Arts 150 Photographic Exhibition, Shadbolt Arts Center, Burnaby, May 26-28 2008

Nordic Art and Photography Exhibit, Group Show, Scandinavian Community Centre, Burnaby, March 1-2 2008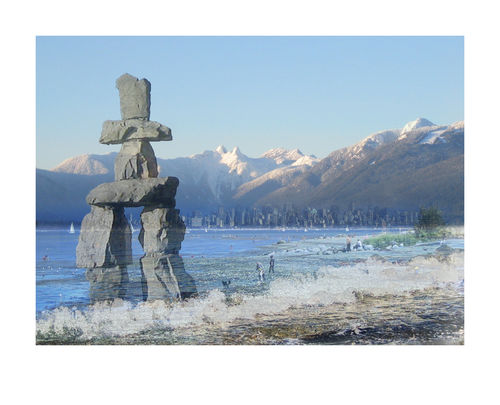 Title: "Inukshuk at the Beach"

Limited Edition Print
Matted
Fits 11x14 inch frame
$30
Custom sizes available

Iconic views of Vancouver are creatively blended to create one memorable scene. The Inukshuk sculpture in English Bay, the inspiration for the 2010 Winter Games logo, imaginatively stands in the waters of Spanish Banks on Vancouver's west side. The city skyline in the distance is nestled at the foot of the snow-topped "Lions" (1654m) - the twin granite domes resembling resting lions in the North Shore mountains. To the right, a ski slope at Grouse Mountain is visible in the hills. Some of Vancouver's favourite spots are memorably montaged into this new perspective.