Full Circle is a great store downtown Victoria offering awesome gifts, supporting local artists and fair trade initiatives, and you can find affordable jewellery, clothing, yoga pants, teas, candles, incense, prayer flags.... Always fun to browse and relax the soul. I went to Full Circle ...
Posted by: Sibylle Zilker Dienstag Nov 12, 2013 17:58
Categories: from the heart | Tags: books, fair trade, healing arts, music, spirituality, therapy, victoria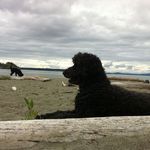 How did it come to this? Why am I writing? What inspired me? I guess the first thing I ever wrote that is similar to what I am intending to do is writing a travel journal when we took the night train from Munich to the North Sea in Germany. Our kids were then 2 and 4 and we went on this ...
Posted by: Sibylle Zilker Samstag Sep 07, 2013 13:35
Categories: from the heart | Tags: westcoast