Samstag Dez 03, 2022 - Sonntag Dez 04, 2022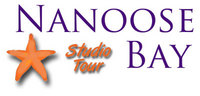 Have a fun day visiting local artists and artisans in their home studio. If you haven't already finished your Christmas shopping you might find that unique and special gift that you have been looking for. Hours are 10 am to 4 pm each day.
For more information, please visit our website at www.nbst.ca, our Facebook page Nanoose Bay Studio Tour
Participating Members:
Please click on the member name to get more information.
1
Phoenix Gallery, Christopher and Jane Smith


8226 Sabre Road, Lantzville, BC

5
Phillips Pottery


2471 Schirra Driver, Nanoose Bay, BC

6
Knut Pottery, Alan Knutson


2550 Powder Point Rd, Nanoose Bay, BC

10
Sheila Warren Fine Art, Sheila Warren


3504 Goodrich Road, Nanoose Bay, BC

17
Red Cod Forge / Affinity Stone Jewelry, Dave & Debra Kasprick


2155 Spurs Place, Nanoose Bay, BC

19
Richard Alm


2365 Avondale Place, Nanoose Bay, BC

20
Studio Meredith, Katherine Meredith


3784 Mallard Place, Nanoose Bay, BC

21
Clay and Brush Studio, Marie Paquette


1372 Pilot Way, Nanoose Bay
Click on Nanoose Bay Studio Tour 2022 Christmas Crawl - Booklet to print this tour as a PDF file. (Adobe Acrobat reader is required to print this file)


Kontakt Info: