Choose between Galiano Island's ocean front cabins atop a cliff, high above the water with grand views or find stillness amidst the trees. Cabins on Galiano Island are great for family reunions or a romantic getaway, easy to get here and still so far away from everything at home. Some Galiano Island vacation rentals even have a Bed & Breakfast option or indulge in the comfort of an intimate resort and spa, perfect for retreats, and weddings.
Gesamtanzahl Einträge: 1 Showing: 1-1
Seite:

[1]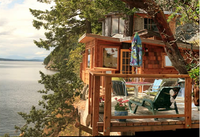 Der ideale Platz um zur Ruhe zu kommen!