British Columbia Travel Guide

The unofficial BC Travel & Tourism Guide

Delta's diverse landscape straddles three distinct communities; the garden community of Tsawwassen (also home to the ferry terminal to the surrounding islands), the heritage village of Ladner and the farm and eco community of Ladner. Throughout the area families and couples can share relaxed nature trails, marshes, eco tours, waterfront walks or picnics, and forested mountain biking trails. Delta is a great stopping point for outdoor enthusiasts interested in learning more about the marsh and ocean shore's fragile eco systems in this region of British Columbia. One-fifth of Delta is home to the unique Burns Bog ecosystem.


The community parks, archives, museums and libraries give insight as to why this area has sprung up to support the families of the commuters who work in the nearby major city center of Vancouver – the combination of nature, space and living costs play a large roll. The area is also surround by marsh lands and water ways such as; the Fraser River, Boundary Bay and the Strait of Georgia to the Pacific Ocean.

Travelers looking for marine parks, sailing or fishing opportunities won't be disappointed. However, if a visitor is looking for some time on the green, Delta is up for the challenge with its six local golf courses.

The festivals or events running throughout the year showcase the community spirit and the seasons with such days as; (Jan 1st)Polar Bear Swim, seasonal Open Air Markets of arts and crafts, (May) Ladner Pioneer Days, cycling weekends and the Tsawwassen and Fraser River Festivals.


Bevölkerung: 100,000+

Besonderheiten:
Eco-system - 230 species of birds (including Eagle and Great Blue Heron)
Sea Life - Sealions and whale watching
Golf Courses – 6 offering varying degrees of difficulty
Ocean Front Parks


Geschichte:
The First Nations archaeological evidence indicates that around the area of Alex Fraser Bridge (today) there was season activity and temporary sites for tribe members who would frequent the area during the summer for preparation of winter food collections. These small clues indicate that these first residents existed here over 8,000 years ago following the great Ice Age. Some other evidence leads archaeologists to believe that another group may have made use along certain areas of the shores of the Strait of Georgia up to 4,000 years ago, which would not be surprising considering that for transportation many would arrive from other areas or islands by hand-hewn cedar canoe.

Not until 1791, when the Spanish Explorer Lieutenant Fransisco Elizsa arrived had any other voyagers set sight on this new land. Mistaking the area for another island the Lieutenant first named the area Isla Capeda.


Klima:
Summer average 18 degrees Celsius
Winter average 3+ degrees Celsius
Delta Unterkünfte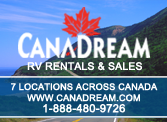 RV-Vermietung Erleben Sie Kanada mit einem Motorhome von CanaDream. Der RV-Anbieter mit einer Auswahl an Campervans, Truck Campers und Motorhomes bietet Ihnen eine grosse Auswahl an 8 Lokationen in Kanada.

Delta Things to Do