Gesamtanzahl Einträge: 2 Showing: 1-2
Seite:

[1]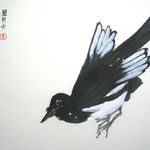 Becky McMahon Oriental Brush Painting. Working with Chinese Ink, watercolour, mulberry paper and Chinese Brushes, Becky paints elegant florals, dynamic landscapes and spirited birds and animimal.


Adam's River Salmon Society, Blair Acton, Chase
"Salute to the Sockeye" Struggling against insurmountable odds, 1 out of every four thousand eggs laid in the Adams River lives to returns as a spawning adult. Experience the majesty, beauty and tragically poignant life of the Pacific Sockeye Salmon.