Gesamtanzahl Einträge: 3 Showing: 1-3
Seite:

[1]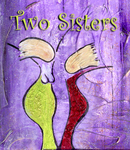 Two Sisters Artists Studio - acrylic & mixed media painting, beaded jewelry, art cards and more

Our artists work in differing media such as oils, watercolors, sculpture, photography, representing no specific style or genre. They do share in their diversity a common vision that art is a positive instrument with a global & spiritual perspective.

Darlene Gait, Shawnigan Lake
Paintings and Poetry by First Nation's artist Darlene Gait. She is recognized internationally, her art is exhibited and held in private and public collections and her limited edition Giclees and prints are sold in galleries worldwide.