Gesamtanzahl Einträge: 3 Showing: 1-3
Seite:

[1]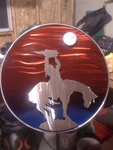 I am an Aboriginal metal artist based in Penticton, BC. I am from the Okanagan Nation and a member of the Penticton Indian Band. I began my art career as a tattoo artist and after 17 years, turned my hobby of metal artistry into a full time endeavor. M


Weinberge in Britisch Kolumbein und italienische Winzereien gemalt von der kanadischen Kuenstlerin Louise Lambert von 'Wine Country Studios' nahe der Mission Hill Winery. Original Soap Stone Arbeiten, Metis Kunst, Workshops und Weinveranstaltungen.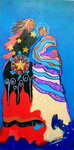 Lee Claremont, Kelowna
First Nations Contemporary Artist