Gesamtanzahl Einträge: 4 Showing: 1-4
Seite:

[1]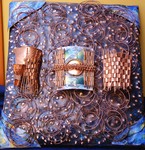 Woven Copper Sculpture and Fine Art Photography


Denman Island Arts Centre

These paintings are exquisitely detailed, depicting magical BC moments. Each painting makes a wonderful treasured memory. A little window which lures you through to the serenity of BC. A gift for the home or office, for all ages, locals or visitors.