Mount Revelstoke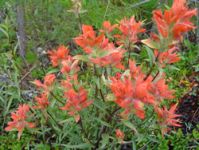 Mount Revelstoke National Park is one of the few places in Canada where it is possible to drive right into a subalpine meadow. From dense old-growth rainforest of giant cedar and pine, travel up through subalpine forest, and finally alpine meadows and tundra. Summit Road, open only during the summer winds 26 km up to the top of this 1860-metre mountain. Enjoy the view of the snow and ice covered Monashee and Selkirk Mountains. Follow the Giant Cedars hiking trail through a stand of ancient Western Red Cedars, and the Skunk Cabbage trail will take you to jungle-like wetland, a birder's paradise.
Mount Revelstoke Park welcomes hikers, cross-country skiers, and picnickers at a variety of day-use areas along Summit Road and Highway 1. There are no developed campgrounds in the park, just some backcountry sites.
The Meadows-in-the-Sky Parkway is open only during the snowfree season. However, in spring, visitors can drive progressively further up the road as the snow melts. When the Mount Revelstoke Summit is snowfree, usually by the third week in July, the Summit Shuttle Bus transports visitors between the parking area at Balsam Lake and the summit area from 10:00 am to 4:20 pm.
The parkway is open and our welcome station kiosk is staffed from 7:00 a.m. until 10:00 p.m., from mid-June to the August long weekend.
In August, the parkway hours of operation are 7:00 a.m. until 8:30 p.m. In May and early June, and in September and early October, the parkway hours of operation are 9:00 a.m. until 5:00 p.m. Please note that the parkway gate is locked at closing time.
Visitors should double check with welcome station staff for closing times.
A park pass is required for all visitors to national parks. This pass is available at the park gates or contact the visitor information centre of Parks Canada.