Kootenay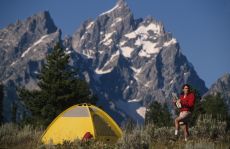 Kootenay National Park was established in 1920 and represents with its 140,600 hectares the south-western region of the Canadian Rocky Mountains. Experience amazing contrasts, towering summits, hanging glaciers, narrow chasms, colourful mineral pools, from glacier-clad peaks in the north to dry, cactus-bearing slopes in the southto semi-arid grasslands of the Rocky Mountain Trench, where cactus grows, this is a park rich in diversity of landscapes and ecology.
Visit the 43°C warm waters at Radium Hot Springs that come out of the Redstreak breccia fault line. You can stay at one of the three major campgrounds in the park or choose a hotel or resort.
Information Centres:
Two seasonal information centres operate in Kootenay National Park.
Kootenay National Park Visitor Centre
7556 Main Street East; Radium Hot Springs, B.C.
Kootenay Park Lodge Visitor Centre
68 km (45 minutes) north of Radium Hot Spring on Highway #93, no telephone, no fax.
Kootenay National Park is open year round. However, the peak season is during July and August.
A park pass is required for all visitors to national parks. This pass is available at the park gates or contact the visitor information centre of Parks Canada.