Gesamtanzahl Einträge: 5 Showing: 1-5
Seite:

[1]

Saturday Art Tours - Seven different artists, in and near Nakusp.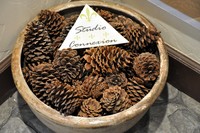 Studio Connexion Gallery is located in Nakusp. As a gallerist, Anne Beliveau organizes exhibitions from May to October. Mainly Western Canadian artists have been featured in the quaint space:Barbara Maye,David Langevin & Kate Tupper...a Gift for Your Eyes

Tree roots/stumps, plants, exotic and mundane, and animals are the subject matter for this painter. The plastered surface she paints on give her powerful paintings a unique quality.