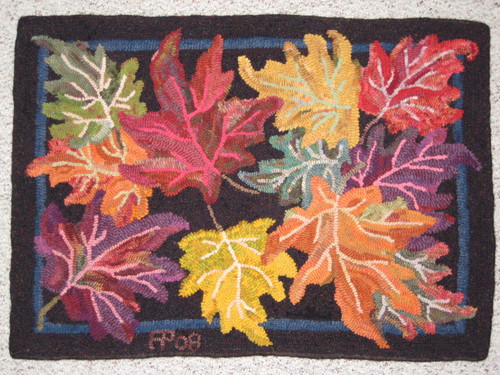 Welcome to the world of traditional rug hooking and meet Canada's fibre artist extraordinaire and rug hooking teacher.

Angela Possak has been hooking for over forty years, honing her skills in the art of rug hooking and conducting workshops in Canada and the U.S.

Rug hooking classes are available in the following subjects: Stained Glass (dip dye wide cut), Christmas Poinsettia (3 or 4 cut), Large Pansy (wide cut), Portland Lights Revisited (5 & 4 cut), Celtic Rug (5 cut), English Country Garden (fine cut).
She is also specializes in expert antique rug restoration.
An adaptation of Arthur Wilkinson's painting. Colour designed and hooked by Angela Possak.
"Prairie Castles", designed and hooked by Angela Possak, is part of a travelling exhibit on grain elevators in Saskatchewan
"Full Bloom", an Angela Possak original, was exhibited at ArtWalk 2010 in Lake Country, B.C.
"Let It Be", designed and hooked by Angela Possak, was the featured piece of an exhibit at the Summerland Art Gallery