Welcome to our Collagen / Gemischte Medien Reiseführer für Informationen über Collagen / Gemischte Medien in Vancouver.
Artist / Designer Kim Hunter / Indigo
Vancouver, V6G2R9, 990 Lagoon Drive
Ph. 604 682 7533
mixed media artist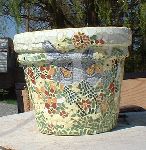 Mosaic Art for the Home and Garden
Cloverdale, *** ***, **** ** ****
Ph. *** *** ****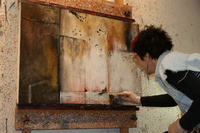 Mixed media paintings, workshops and private classes
Vancouver, V6H 3S4, 202-1650 Duranleau Street, Granville Island
Ph. 604 434 1367
Bev Ellis, painter, sculptor, mixed media, and more: Descover the passion of this versatile artist

I paint abstract acrylics in a variety of sizes that capture the rhythm and essence of our natural world. My works are often textural and always boldly colorful.
Abstracts and Semi-Abstracts - "Abstract art that is all about colours and shapes, their arrangement on the canvas and how they interact with one another to create a harmony that is eye-catching, pleasant, expressive and joyful.
artist/illustrator
Delta, V4K 2J4, 5203 Westminster Avenue
Ph. 604-946-8661
Original Low Brow, Surrealist, Outsider and Pop Art, Tattooing, Piercing.
vancouver, v5t 1x9, 752 east broadway
Ph. 604-877-0057
Semi-abstract paintings and mixed media artworks by Alice Parmelee Rich.
Vancouver, V6H 4G9, 1315 Railspur Alley, Granville Island
Ph. 604-731-0068
Award winning Artist Elaine Booth-Kallweit creates diverse fine art inspired by nature & ethnic cultures. Originals, reproductions & art cards available. Commissions welcome.
Maple Ridge, V2X 5K4, 12507 216 Street
Ph. 604-463-6116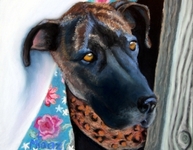 Fine Artist/illustrator/writer. Art work topics include pet Portraits, Nudes, Flowers, Landscapes, etc. The mediums used are oil paint, soft pastel, collage, and other multi-media. Pet portrait commissions are accepted through email using jpeg images. Con
Artpowerhouse: Vancouver based photographic & multi media artist
Surrey, V3S 8K4, 2450 161a St.
Ph. 604.312.6842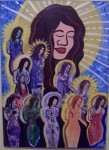 Visionary works of vibrant acrylics, assemblage and collage.
I find inspiration in sports heroes, especially sports heroes from the past. I also paint portraits of animals and people and abstract images. (At Right: "Boston Terror", 20" x 16", acrylic, Sold)
Vancouver, V5T 1G5, #306-228 E. 4th Avenue
Ph. 604-209-6074
Metaphysical paintings that explore the inner landscapes of human experience and celebrate our potential for transformation, healing and growth. www.leemcintyre.com -- 604.484.1879 -- lmci@leemcintyre.com -- facebook.com/leemicntyre.artist

Paper, paint and print studio. Visitors welcome!
Vancouver, V6K 2S4, 2261 West 13th Ave.
Ph. 604-731-8789 oder 604-731-8789
Love letters? Want to learn calligraphy? Want to meet other calligraphers? Join the Westacoast Calligraphy Society.
Vancouver, V6M 4L3, Box 18150 , 2303 West 41st Ave
Ph. 604 -000-0000
Digital Artist and Photographer
Painter - Artists in Our Midst and Active member of Federation of Art in Canada
BC, V6N2R2, 2945 w36th ave, Vancouver
Ph. 604 569 7642