Welcome to our Mixed Media Reiseführer für Informationen über Mixed Media in Vancouver.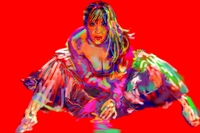 visual artist, oil, acrylic, watercolor, ink, ceramic,mixed media by artist Lisa Wolfin
West Vancouver, v6c1t1, 6607 Royal Ave, Horseshoe Bay
Ph. 604 922 5510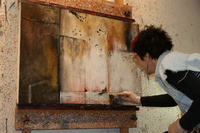 Mixed media paintings, workshops and private classes
Vancouver, V6H 3S4, 202-1650 Duranleau Street, Granville Island
Ph. 604 434 1367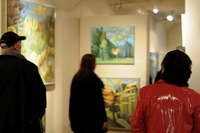 This is the working studio of Canadian visual artist, Lourdes Lara.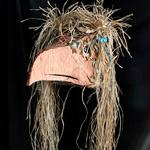 Meghan Carich - The Spirit of Me - Leather Spirit Masks
Surrey, V4A2M7, no address
Ph. 604 531-9571
I find inspiration in sports heroes, especially sports heroes from the past. I also paint portraits of animals and people and abstract images. (At Right: "Boston Terror", 20" x 16", acrylic, Sold)
Vancouver, V5T 1G5, #306-228 E. 4th Avenue
Ph. 604-209-6074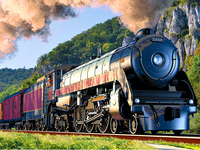 Experienced Realistic Artist/Illustrator
North Vancouver, V7P 3G1, 1959 Marine Drive, Unit 1963
Ph. 604 - 929 - 7158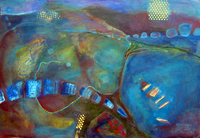 Paintings with a Distinctive Appeal...where the Imagination Gets Real. An inviting focus on people, nature, and abstracts done in oils, acrylics, and mixed media.
Everything from ornamental to functional. Fine jewellery to costumes and props.
mixed media artist
Original Art by Melina Neufeld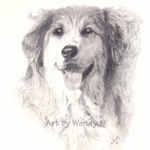 Artist/Instructor: Animals, birds and nature are the focus of Wendy's watercolors and lifelike drawings. Pet Portraits a specialty. Instructor: Drawing and Painting classes; Marketing Workshops for Emerging Artists; Journaling. Gift Certificates Available
Surrey, V3R0E6, 9349 152 A St
Ph. 604-583-4538
Canadian Metis Sash Fashions and Artworks by Mark MiLan
Vancouver, V6B 3Z1, P.O. Box #3838 Station Main
Ph. 604.618.1658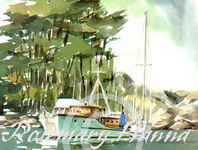 www.ArtEcoDesign.ca BEAUTIFUL ART PRINTS, COMMISSIONS, WORKSHOPS, and Original Paintings - designed by British Columbia artist/Educator ROSEMARY HANNA, MA. VIEW MARINE AND ARCHITECTURAL ART SAMPLES - WEBSITE www.artecodesign.ca

I paint abstract acrylics in a variety of sizes that capture the rhythm and essence of our natural world. My works are often textural and always boldly colorful.

Unconventional Jewellery & Accessories
Metaphysical paintings that explore the inner landscapes of human experience and celebrate our potential for transformation, healing and growth. www.leemcintyre.com -- 604.484.1879 -- lmci@leemcintyre.com -- facebook.com/leemicntyre.artist

Fine Art Prints of Vancouver and Southwestern Brititsh Columbia
North Vancouver, V7M 1Y4, 144 West 20th Street, Suite 310
Ph. (604) 985-4262
Custom Digital Portraits
Large Scale Fine Art, Murals and Sculpture
New Westminster, V3M3Y1, Studio: 215 - 10TH Street, Studio 108
Ph. 604-786-9498
Zoorganic is an eco-friendly arts and crafts company