Enjoy a true Victorian style heritage Bed and Breakfast in one of the many fabulous B&B's in Victoria's romantic downtown. Many of them have been renovated extensively to offer you all the modern day comforts but have preserved their charm and historic value. Travel back in time while you stay in an elegant Tudor mansion, wake up to a gourmet breakfast, book an in-room massage and relax by the fire. For better access to the outdoors stay in the country side from Sooke to Sidney and take off on a day hike right from your B&B into the Sooke Hills. Stunning log chalets ideal for nature-loving travelers and serious eco-tourists, warm countryside bed and breakfasts, charming west coast style cottages and friendly hosts.
Gesamtanzahl Einträge: 3 Showing: 1-3
Seite:

[1]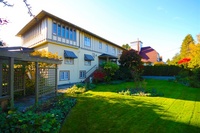 Erleben Sie den Charme vergangener Zeiten zu günstigen Preisen
Victoria, V8S 5E3, 1052 Newport Ave.
Ph. 1 800 575 3812 oder 250 598 3812
Das viktorianische Juwel von Victoria
Victoria, V8V 1T3, 224 Superior Street
Ph. 877 389 0012 oder 250 389 0012
Reizende kleine Pension im Westküstenstil, idyllisch inmitten eines 0,8 Hektar großen Waldgebiets gelegen, in einer ruhigen Sackgasse.
North Saanich, V8L 5J7, 11435 Hawthorne Pl.
Ph. 250 655 0690
add your listing